Stories
Read some of the success stories of The Dr Jackson Cancer Fund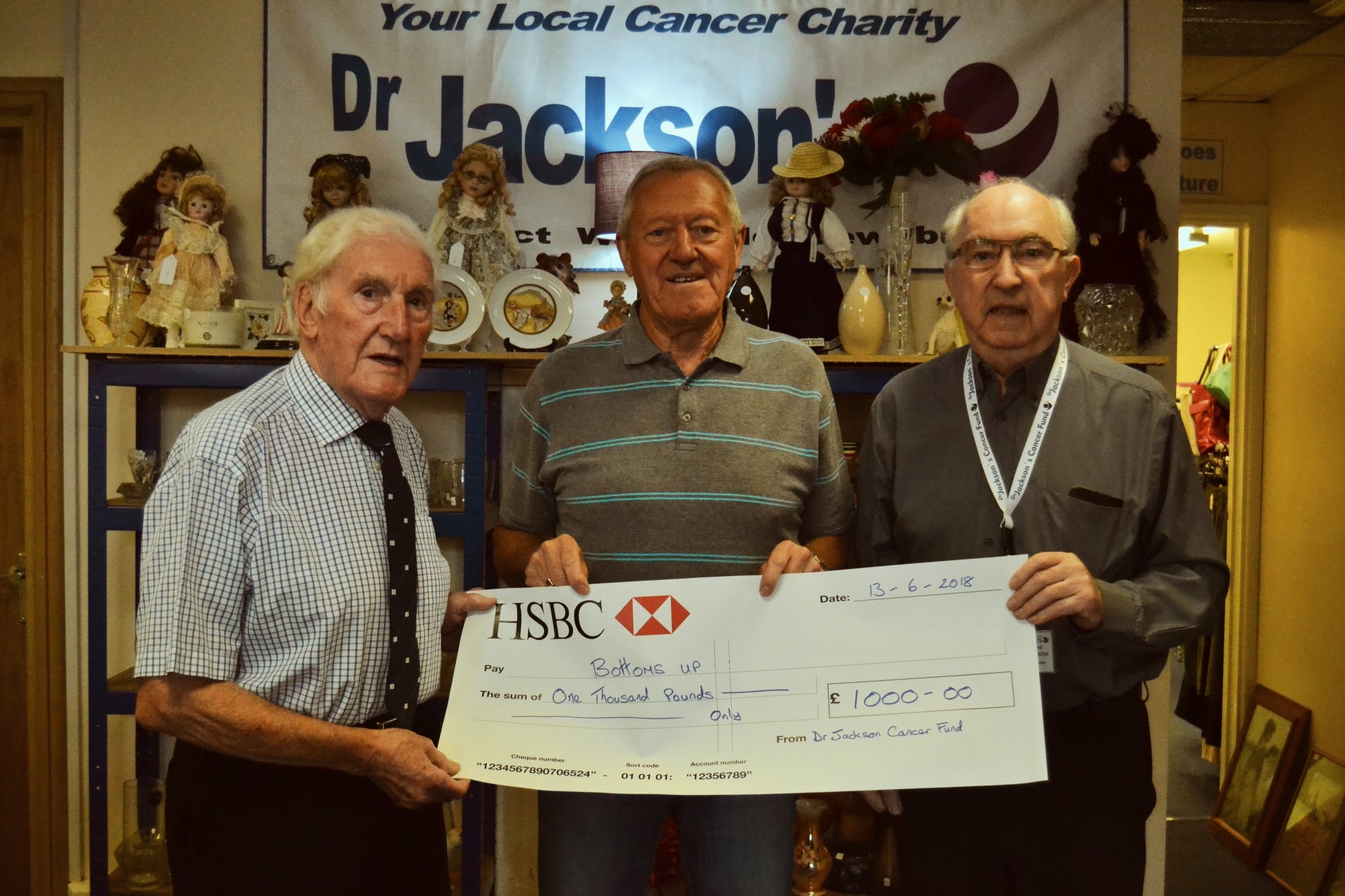 Sir William O'Brien Chairman and Bill Mulroe BEM Vice Chairman of the Dr Jackson Cancer Fund, presenting a cheque for £1,000 towards the purchase of equipment to John Whelpton from 'Bottoms Up' the Bowel Cancer Support Group.
--------------------------------------------------------------------------------------------------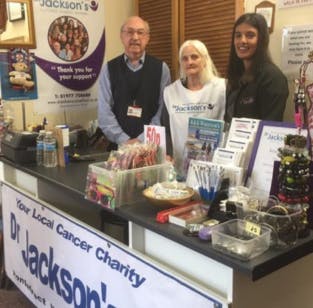 Job success for Eileen
Published 19 May 2017
A local woman who regularly a ended a WDH work club in Featherstone has secured a permanent job a er volunteering through the Dr Jackson Cancer Appeal shop.
During support sessions with WDH's Community Employment O cer, Eileen Slater was encouraged to become a volunteer at the charity shop in Featherstone. Through her experience and a recommenda on from the Shop Manager, Eileen has gone on to permanent employment with a cleaning company.
Bill Mulroe, Shop Manager at the Dr Jackson Cancer Appeal shop, said: "We were only too pleased to give Eileen a chance. We needed someone good to support us with our stock control, sales and custom- er service and this work clearly brought her out of her shell. Eileen was so good. In fact, she quickly pro- gressed to being front of house, working without supervision which was so impressive in such a short me."
He added: "I'm so proud that she has found a paid job using the experience that she gained with us. I'm looking forward to seeing her progress."
Shabana Yousaf, WDH's Community Employment O cer, said: "I have to thank Bill for being so sup- por ve and bringing out the con dence in Eileen. I will really miss her at the work club but I wish her all the very best success in the future."
Eileen said: "My dad passed away with cancer, so when the volunteering opportunity came up I really wanted to work here. I was quite shy at rst but working at the hospice shop I got the chance to meet people, which is great. I made friends and people say hello to me now."
She added: "I've been really happy having Shabana as my advisor. If it wasn't for her I don't think I would have got this post."
WDH's Community Employment Advisors regularly visit work clubs held across the district. They are skilled professionals who can help WDH tenants to nd jobs online, o er guidance on how to write a CV and apply, o er interview skills and ps, and help individuals to nd the right training course. They have helped more than 4,500 people so far, assis ng over 2,000 into training and over 1,400 into employ- ment.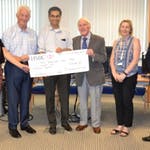 Dr Jackson Cancer fund towards upgrading their multidisciplinary room at Pinderfields Hospital
The Mid Yorkshire Hospitals NHS Trust has received a generous donation of £25,000 from the Dr Jackson Cancer fund towards upgrading their multidisciplinary room at Pinderfields Hospital, which hosts reviews of cancer patients and their treatment.
The new room will be used by groups of health professionals, known as a multidisciplinary team (MDT), with expert knowledge in different types of cancer to plan and manage each patient's treatment. The MDT team make recommendations rather than decisions.
The new MDT room will not only provide specialist equipment with low maintenance costs, but will also enable the cancer review team to link with other Trusts by video conferencing to share their cancer expertise. Cancer Patients at Pinderfields
Hospital will also get immediate outcomes of the MDT discussions sent to their electronic document record. In the new room the staff will be able to access and view scans, pathology specimens, letters and notes simultaneously across six screens, which will enable speedier discussions.
The MDT team look at a number of things, during the meetings including the type and size of the cancer, and whether it has spread as well as any national treatment guidelines for particular cancers.
Dr Jay Naik, Oncology Consultant involved in the MDT reviews, at The Mid Yorkshire Hospitals NHS Trust, said; "We are grateful to Dr Jackson for their continued support of this room, vital to the aim of providing excellent cancer care here at Mid Yorks. The provision of cutting edge technology and audio-visual equipment will ensure the timely and safe discussion of patients with suspected or confirmed diagnoses of cancer. The upgrade will allow better communication with external Trusts for expert opinions and direct transfer of information, instantly available to aid safe and effective decision making for patients."
Sir William O'Brien, Chair of Trustees of the Dr Jackson Cancer Fund, said; "We are very pleased to be able to support this upgrade to what is obviously a very important facility for cancer treatment across the Mid Yorkshire Hospitals NHS Trust – particularly so, as we donated £79,000 in 2011 to establish this major tool in the fight against cancer".
Photo; (L-R) Katrina Tyldsley (Group Manager- Cancer Team, MYHT), Jules Preston (Chairman of the MYHT), Dr Jay Naik (Oncologist and Lead Cancer Clinician, MYHT), Sir William O'Brien (Chair of Dr Jackson Fund), Samantha Smith (Treasurer of Dr Jackson Fund and also Accountant at MYHT) and Bill Mulroe BEM (Vice Chair of Dr Jackson Fund)